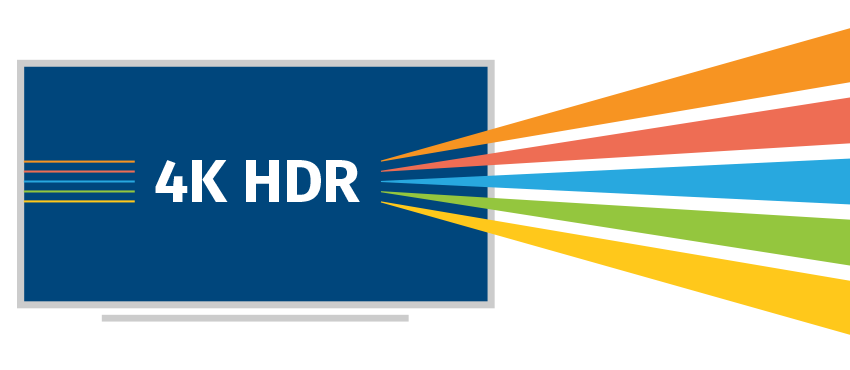 Article
The Challenging World of 4K HDR Streaming
Unfolding the Hardware, Software, and Content Protection Requirements
If you are looking for a new TV, the chances are high that it will be a 4K set with a feature called high dynamic range, or HDR for short. HDR screens are able to get more dynamic images out of a display - bright whites get brighter, deep blacks get darker and deeper, and overall the colors just pop more.
On a standard display, 4K included, everything below a certain brightness is the same shade. An HDR display goes further with better brightness levels and a larger color gamut (more available colors), allowing the viewer to tell the difference between things that are really dark and something that is just dark.
Whenever a new media technology emerges, it brings about many changes and a brand new set of challenges - changes in hardware and software and challenges in meeting the needs for higher levels of content protection.
Changes and Challenges with HDR
HDR places considerable restrictions on both the screen it's displayed on and the player doing the playback. It also restricts the method of connection.
The single biggest variable in the HDR effect is the quality of the screen. Better quality screens support more brightness levels (measured in nits) and thus are able to produce a better HDR effect.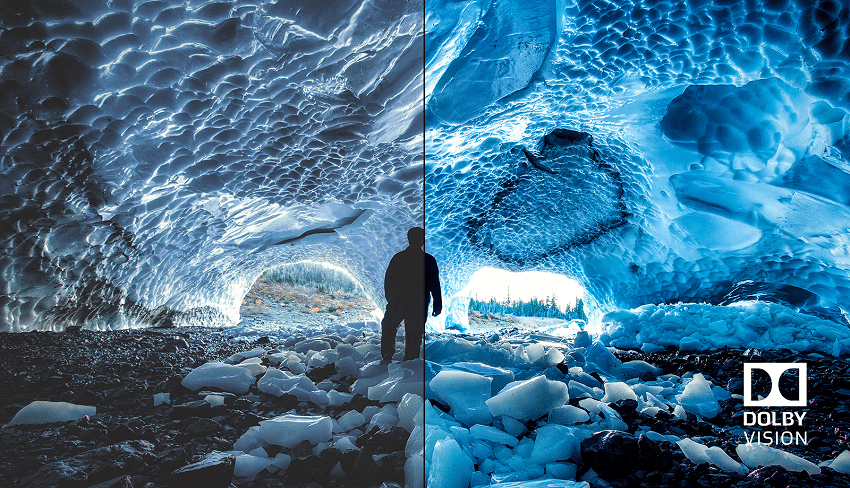 Video Standards
There are three main 4K HDR standards in use today:
HDR10

HDR10+

Dolby Vision
HDR10 is free-to-use for manufacturers. Every HDR supporting TV screen can decode it and every HDR streamer can stream it. Pretty much all HDR content has an HDR10 version of it. Just like HDR10, HDR10+ is also an open standard but offers a higher picture quality than HDR10 by adding dynamic metadata as an extra layer of information for each scene.
On the other hand, Dolby Vision is a proprietary standard licensed by Dolby, and it comes with a license fee. That license fee does include a service whereby Dolby helps with getting the most out of the technology. Because of the license fee, there is less content available, but all the major studios still support and use it.
From a technical perspective, the difference that matters between these three standards is how they deal with color and brightness metadata. HDR10 uses static metadata - color and brightness are set for the entire movie, while HDR10+ and Dolby Vision support dynamic metadata, enabling scene-by-scene and even frame-by-frame settings. Another difference is the maximum brightness. HDR10 tops out at 1000 nits, HDR10+ up to 4000 nits, while Dolby aims at 10 000 nits of brightness.
In short, HDR10+ and Dolby Vision are able to produce better-looking visuals with their use of dynamic metadata and higher brightness. Still, HDR10s static metadata produces content that is leaps and bounds ahead of standard video. The bottom line is that any HDR content simply looks better than standard-definition video, no matter the standard used.
HDR For Broadcasting
While HDR is more common for streaming video, there is a recognized HDR standard developed by the BBC and NHK specifically for live broadcasting - Hybrid Log-Gamma or HLG for short. It's a royalty-free standard that, unlike other HDR standards, is backward compatible with non-HDR or standard dynamic range displays.
The availability of HLG content is on the rise, with support from device manufacturers and the adoption of HLG in broadcasting major sporting events held worldwide. For example, Sky broadcasted live 4K HLG action from the Tokyo 2020 Olympics and continues to do so with the 2021/22 Premier League season.
Codec Support & Streaming
With the massive increase in file size for 4K HDR videos comes another problem - compression for streaming. Existing codecs like the widely used H.264 are simply not good enough to enable 4K HDR streaming. The files are still too big.
This is where new codecs like HEVC (High-Efficiency Video Coding), better known as H.265, and VP9 come into play. They're both around twice as efficient as H.264 and thus are suitable for streaming 4K HDR content. Both of these codecs support HDR10, HDR10+ Dolby Vision, and HLG.
File size and streaming support become especially important in disconnected scenarios on different vessels like airplanes with their seatback devices and BYOD (Bring Your Own Device) support. In July 2019, ANA became the first commercial airline to launch 4K TVs on airplanes. While it currently does not support HDR, it's only a matter of time.
Hardware Support
Besides the fact that 4K has 4-times the pixels of Full HD and thus enormous file sizes, which put constraints on physical hard drive space required, 4K HDR also has other hardware requirements. Hardware support has three sides - the screen, the device/player doing the playback, and the cable connecting them.
As a first step, the content must be available in 4K HDR by the content provider and accessible by the user. Moreover, it must also be encoded in an HDR standard that the current hardware can use.
The screen

It's not enough for a screen to have 4K resolution to be able to support 4K HDR. As HDR is all about more color and brightness, it adds extra requirements for the screen. More precisely, support for bigger color gamut i.e., bigger range of available colors and better max brightness limit. Depending on these limits, displays can be certified for HDR10, HDR10+, or Dolby Vision. Not all HDR10 certified screens support Dolby Vision, but all Dolby Vision certified screens support HDR10. This is thanks to higher technical specifications for Dolby supported screens.

The playback device/player

With players, the situation gets a little more complicated. One side of the equation is if the device is technically able to support playback of 4K HDR content in either standard. Next, the question is about the streaming service used and if that particular streaming service supports the device in question. Not all streaming services support 4K HDR on every device or built-in player in the case of smart TVs. For example, 4K and 4K HDR streaming through Netflix are only available on specific TV models, streaming devices, and computers. On Windows 10, it only works on Edge browsers and the Netflix app. Reasons for this are mainly DRM and content protection related. More on this later.

The connection

The final piece of the puzzle is the connection between the screen and the playback device/player. With smart TVs with built-in apps, the situation is clear - it either supports 4K HDR streaming or not. With "external" players, as in players separate from the screen, it's the cable that determines playback capabilities. 4K HDR streaming requires that the cable to be HDMI 2.0b certified and support the HDCP 2.2 standard. HDCP is not DRM; it simply provides a secure link between a source and a display. For it all to work, the screen, device, and the cable must be HDMI 2.0b certified and support HDCP 2.2.
The Highest Level of DRM Protection
Owners of 4K HDR content are keen to use and indeed require that the highest DRM protection levels available are used. The highest level of DRM protection is better known as hardware DRM. This means that all content processing, cryptography, and control are performed within the Trusted Execution Environment (TEE) of the supported device's processor. There is an emphasis on a supported processor as not all processors support this. When the said hardware is connected via HDCP 2.2 supporting cable to the playback screen, hardware DRM is achieved, and content is allowed to be shown in 4K HDR. Apart from hardware support, another side of the story is the DRM service you're using. The service has to support hardware DRM and the technologies (WideVine, PlayReady, FairPlay) your system requires.
With hardware DRM, all the hard work of processing and cryptography is done by onboard processors. This puts a considerable strain on the hardware, which can be avoided for content below 4K and 4K HDR quality. Instead, adaptive streaming and multi-key DRM are used to optimize hardware use and network congestion. What this means is that different qualities of the same content (540p, 1080p, 4K, 4K HDR, etc.) use different DRM levels, encryption keys, and methods.
Multiple key DRM is not the same as multi-DRM. Whereas multi-DRM integrates DRM solutions from different vendors (Apple FairPlay, Microsoft Widevine, Google PlayReady) as efficiently as possible, DRM with multiple keys is about making content protection more granular, flexible, and secure. As with hardware DRM support, multiple key DRM requires a DRM service that supports it.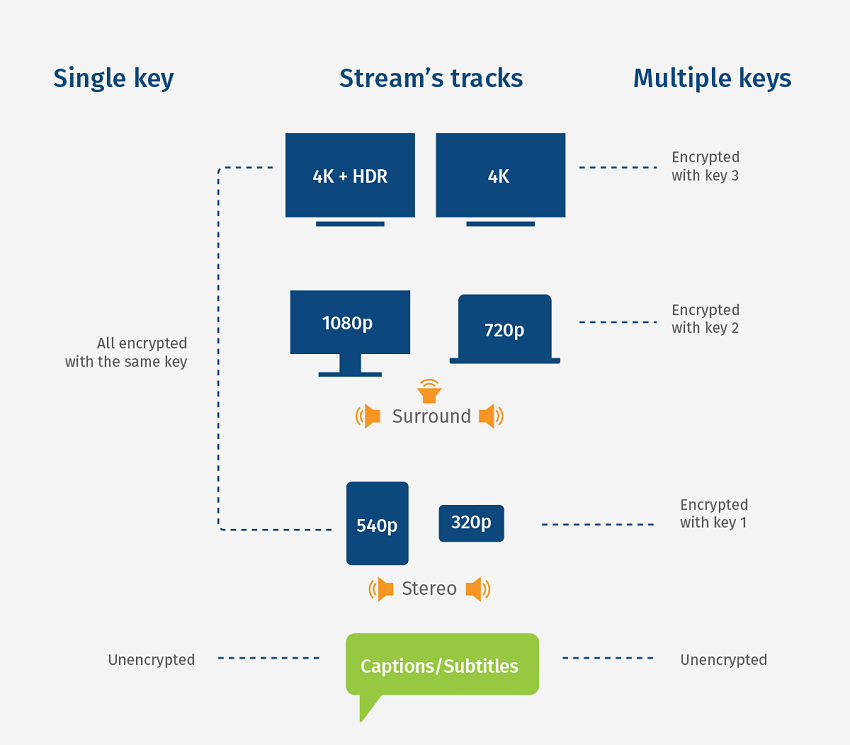 Axinom DRM is a Hollywood studio-approved solution that has enabled prominent media, broadcast, and telecommunications organizations to reach a global audience with their content. We support all major DRM methodologies as well as the latest standards and technologies for protecting 4K and higher quality content - multi-DRM, multi-key DRM, and hardware DRM. With the right mix of robustness and scalability, Axinom DRM fulfills the expectations of content owners and supports media and entertainment platforms in meeting their monetization goals.
Sign Up to the Portal
Get a sneak peek at the simplicity of our content protection solution by signing up for a free evaluation account that gives you access to:
Sample code

Our test environment

Comprehensive documentation
Want to learn more about Axinom DRM? Let's have a chat!