Process and manage massive content catalogs
Manage and deliver massive video content catalogs from a single interface with highly automated workflows.
Reach all screens securely
Serve a global audience securely with advanced encoding, packaging, and DRM technologies for protecting content on multiple platforms and devices.
Unlimited scalability and zero obligations
Leverage a pay-as-you-go approach with a highly scalable cloud-based setup for creating performance-driven and reliable global streaming platforms.
Service Portfolio for Video Platforms
DRM
Protect your digital video assets with a multi-DRM solution that can be implemented on the cloud or on-premise.
Encoding
Ingest, encode/transcode videos utilizing technologies such as CMAF (DRM supported).
Media
Manage video assets and metadata for TV shows, movies, linear streams, etc.
Image
Ingest, query, preview, manage and transform images for editing and frontends.
Translation
Manage languages and create translations for your digital media assets.
Monetization
Create AVOD, SVOD, and Free Ad-Supported Streaming TV platforms. Configure the regions, pricing, and currencies of your monetization model.
Entitlement
Manage content entitlement and rights of subscribers.
Catalog
Manage and display catalogs of video assets such as TV show seasons, movie genres, etc., on frontend apps.
Billing
Process TVOD, subscription transactions, and automatic billing through API and frontend integrations.
User
Sign-up end-users with user authentication APIs for all your frontend apps.
How it Works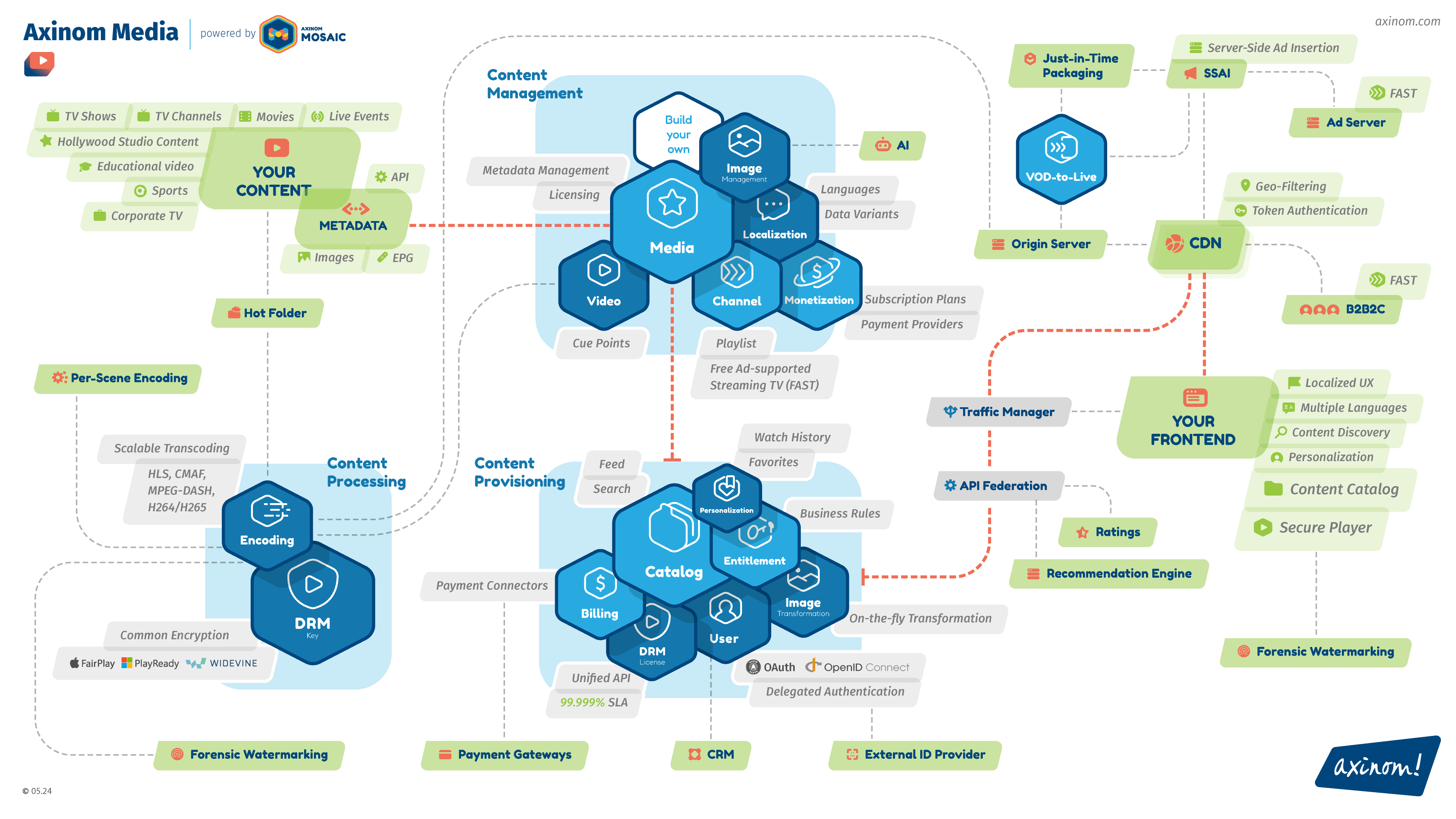 Chat with an expert to see how it works.
Related Solutions
Become a partner
Axinom Partner Program invites companies and developers in media, streaming, and OTT to create unparalleled digital supply chains using the Mosaic platform.
Want to learn more about Axinom Mosaic?