Unified connectivity
Our solution is able to combine connectivity from multiple providers under a unified API to offer seamless internet connectivity to passengers.
Total control
Offers total control from on-ground service orchestration to deployment on-board along with significant reduction in certification and testing needs.
Hybrid approach
Follows a hybrid approach to save bandwidth and cost by prepositioning some resources and components on-board.
Hardware agnostic
The solution is hardware-agnostic and can utilize any pre-existing or new on-board server — portable or mounted.
Integration Friendly
The connectivity portal can combine many functionalities such as on-board entertainment, cabin services, e-commerce, and more.
Service Portfolio for On-Board Connectivity
Image
Ingest, query, preview, manage and transform images for editing and frontends.
Translation
Manage languages and create translations for your digital media assets.
Monetization
Create business models like AVOD, SVOD, TVOD, manage regions, pricing, and currencies.
Media
Manage video assets and metadata for TV shows, movies, linear streams, etc.
Content Set
Create and manage sets of TV shows, movies, linear channels, shop content for vessels, fleets, etc.
Delivery Set Service
Data, software package management, and configuration.
Fleet
Target content sets, data, and service packages to a vessel or fleet of vessels.
Sync
Securely synchronize content and service data between on-ground and on-board servers with standardized protocols and channels.
On-Board Cloud
Manage, deploy, and integrate software services and content on-board a transport vessel.
How it Works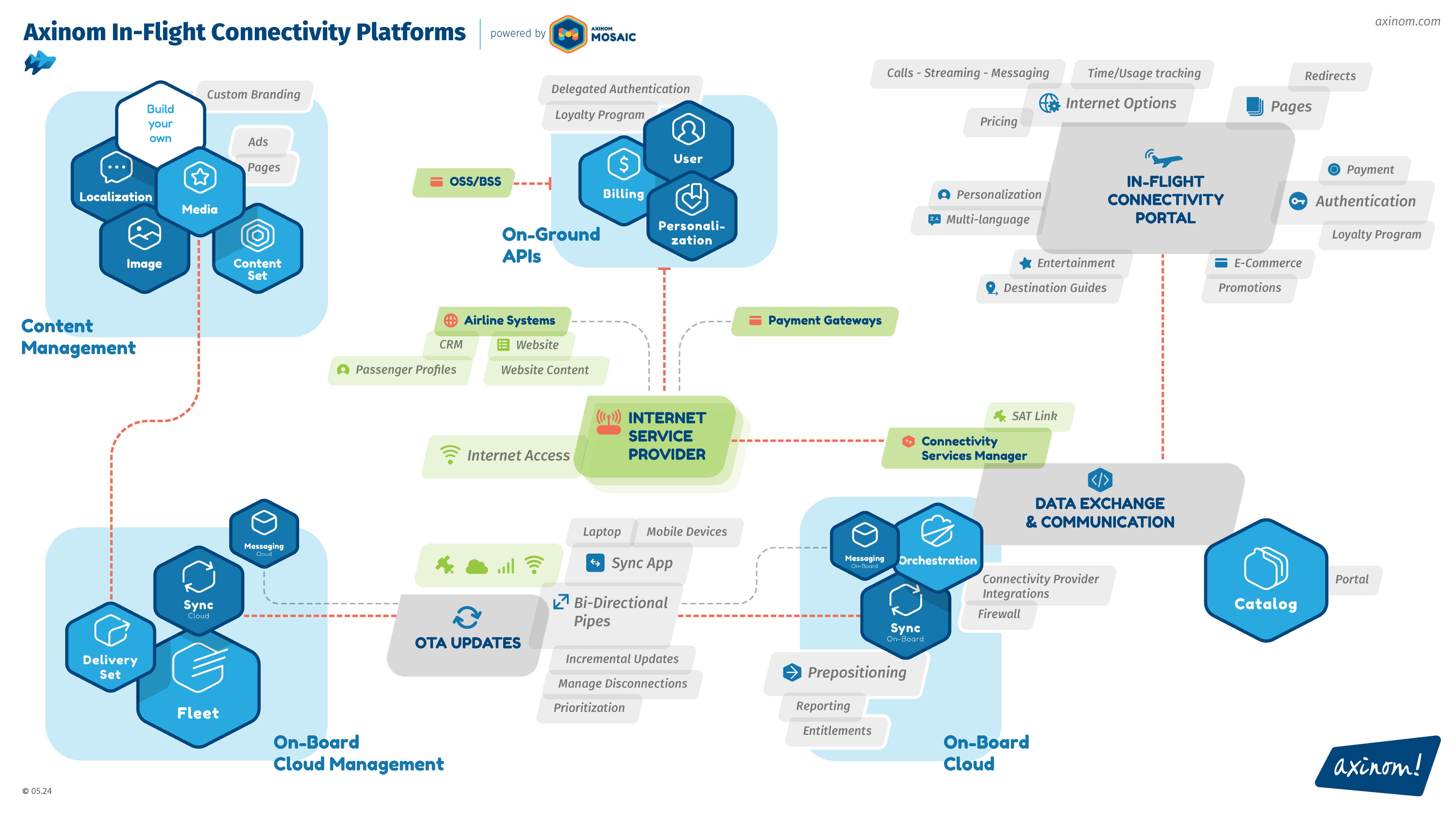 Chat with an expert to see how it works.
Related Solutions
Become a partner
Axinom Partner Program invites companies and developers in media, streaming, and OTT to create unparalleled digital supply chains using the Mosaic platform.
Want to learn more about Axinom Mosaic?