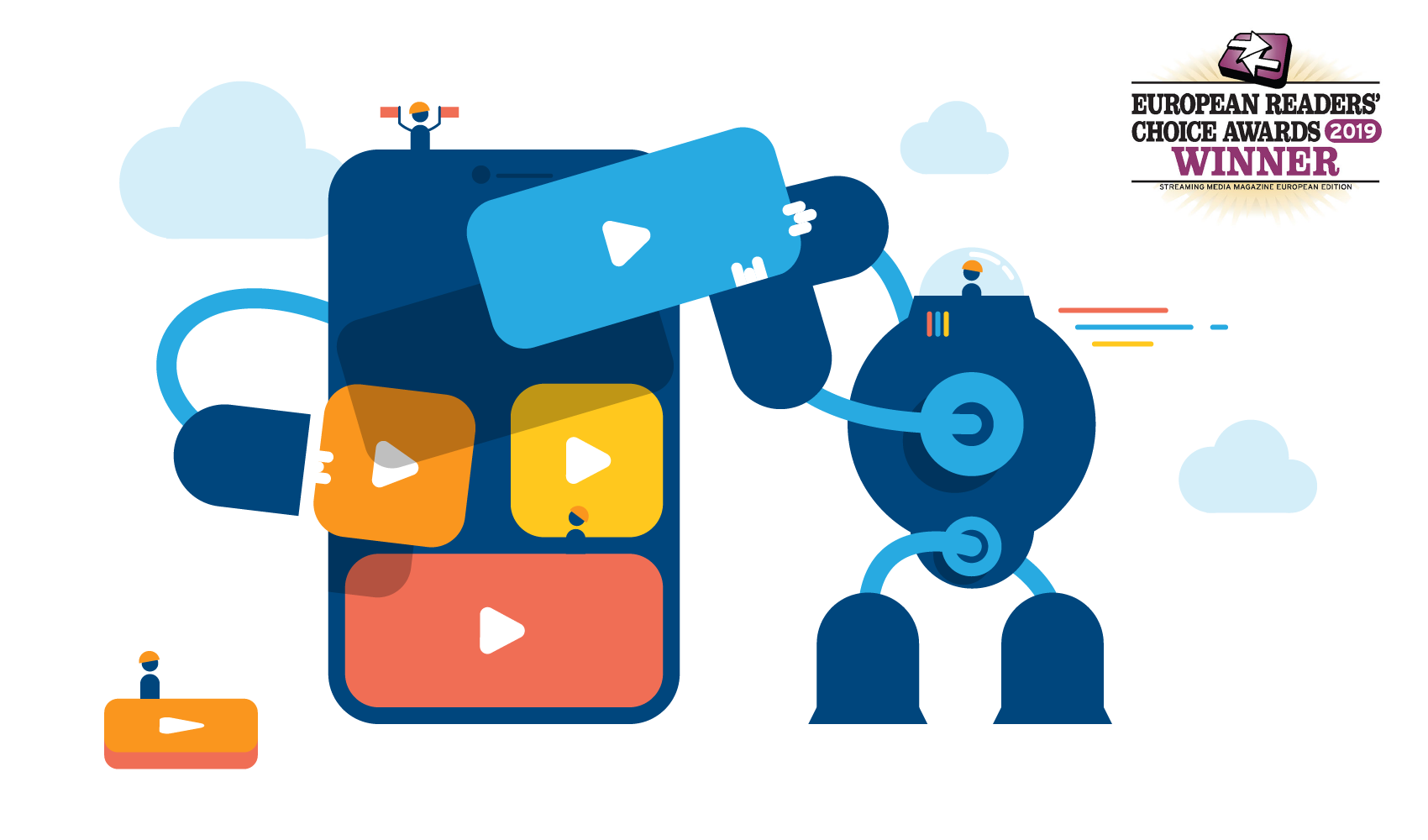 Article
Expert-Built or BIY: Choosing your OTT Strategy
Selecting between an in-house OTT backend or an expert built one.
Global OTT revenues are steadily growing, reaching $83 billion in 2019, with $16 billion estimated to have been added in 2020. Hence, the OTT VOD market is nothing but a reasonable investment. Consumer behavior, demand for choice, and evolving interactions are transforming the industry. The dynamic nature of OTT makes this industry unlike traditional broadcast, and hence, far from the point of saturation. Any OTT platform with the right value proposition and a backend designed for extensibility can indeed achieve success.
Companies aiming for a long-term OTT strategy face a quandary. The choice of building their OTT platform from scratch themselves or to leverage expert partners with a proven technology stack. Both strategies have their issues and benefits. Building an in-house platform from scratch might seem like a sensible choice. Yet, getting stuck in the process due to high costs, long development cycles, or even ending up with a monolithic non-scalable platform isn't uncommon. Unless a company has spare resources and plenty of experience in the OTT industry, seeking expert-built customizable solutions as a base seems more objective.
Establishing an OTT infrastructure can be challenging; the multi-staged process needs to be designed with the utmost consideration for workflows and maximum automation. From ingestion and management to security and distribution, each step needs careful consideration. Companies not only want to give the best QoS and QoE to the viewers, but they also want streamlined workflows for stakeholders behind the scenes.
What if you had the freedom to enjoy the best of both worlds? Where you leverage an array of standard and customizable services with the capability to develop your bespoke services, all within a shared technology stack. Axinom offers you this freedom through Axinom Mosaic, a unique platform that standardizes all significant steps in the digital content supply chain workflows through independent yet connected services. Mosaic decouples each major workflow step into services that fit together through frontend and backend libraries and with external services through supplied APIs.

Let's have a look at the different processes, functions, expectations from a platform and what Axinom Mosaic offers:
Process
Function
Solution Consideration
Axinom Mosaic Solution

Content Ingestion

Media assets are ingested into a processing system.

Support for VOD assets and live streams.

Secure transfer support for premium/early window content.

Automated workflow for bulk jobs with logging.

Cloud or on-premise capability.

Axinom Ingest service securely ingest assets via API from 3rd party systems/storage, with bulk processing capability and highly automated workflows.

Content Processing

Premium content is processed, prepared, and protected.

Encode videos into commonly used formats, such as H264 or H265.

Package videos for adaptive streaming based on standards, such as MPEG DASH, HLS, and CMAF.

Protect content following industry-leading DRM technologies, such as Widevine, PlayReady, and FairPlay.

Scalability and global availability.

Axinom Encoding service encodes and packages your video content based on industry-recognized standards. Ensuring compatibility with an array of browsers and devices.

Axinom DRM service protects your premium content, supporting all major DRM technologies behind a unified API. The DRM service can run on the cloud or locally.

Axinom Encoding service, combined with Axinom DRM, is MPAA-compliant for faster approval from premium content providers.

Content Management

Media assets are managed and assigned relations, including monetization.

Manage and create asset relations for your media assets, with the ability to provide automated and manual workflows.

Monetize your media assets by choosing between advertisement, subscription, or transaction models, as well as mixed models.

Ingest and transform images for editing and frontends.

Axinom Media service allows you to manage and set media asset relations for TV shows, movies, etc.

Axinom Monetization service lets you create business models, such as AVOD, SVOD, TVOD while also managing regions, pricing, and currencies.

Axinom Image service automates the generation of image formats.

Content Provisioning

Provisioning of access to media assets for end-users in the frontend.

Manage and display catalogs of video assets on frontends.

Sign-up end-users with user authentication APIs for all frontends.

Process transactions and automatic billing through API and frontend integrations.

Axinom Catalog service renditions content catalogs created in the backend onto your end-user frontend.

Axinom User service manages requests for end-user registration and authentication.

Axinom Billing service handles all transactions, subscriptions, and payment provider integration in the end-user frontend.

Integration Management

Integration of own or third-party services.

Use of standard APIs.

Pre-integrations with industry-leading providers.

Scalability and flexibility.

Axinom Mosaic runs on an API-first approach, which allows you to interface all your own or third-party services while serving multiple platforms and devices.

Bespoke Workflows

Build your own services or integrate existing services.

Integration of existing backend systems and bespoke workflows.

Axinom Mosaic offers a base template for you to build and publish your own services on top of our technology stack. The unified frontend and backend layer ensures that those services easily integrate with other services in the portfolio.
A collaborative strategy towards building OTT platforms solves most of the challenges faced by companies. It combines the platform's ambitions and requirements with a proven technology stack from an experienced vendor. The stack, oriented for future growth, should allow for customizations and in-house operation and development take-over.
Benefits of an expert leveraged strategy:
Expertise and modularity

In-house creation can yield good results only if there is a vision that is backed by domain expertise. In-house development endeavors require vast experience in carrying out such software development projects of scale.

Companies building their own OTT platform usually find themselves with a tightly-coupled monolithic architecture, which is highly dependent on other components and is non-scalable. On the contrary, an industry expert understands the need for a modular architecture that allows for high scalability and easy maintenance as faulty services can be easily isolated, debugged, and deployed in a fraction of time.

Furthermore, a collaborative strategy enables easy transfer of technical skills and an easy in-house takeover by the time the platform matures.

Faster time to market

Contrary to the long development cycles of an in-house OTT platform, an expert built platform can be launched in a fraction of time. Subject to the level of complexity, customization, and integrations involved.

Platforms built leveraging a modern approach allows for intelligent and automated workflows for ingestion, management, security, and distribution. It is also paired with an orchestration of content and workflows based on predefined conditions for business models, formats, geography, devices, and more. This reduces the time-to-market for the platform and the content immensely.

Pre-integrations

A crucial factor for an OTT back-end is the integrations, with own or third-party systems, and the availability of standard APIs for future integrations. Usually, systems built in-house are limited in their integration capabilities, leading to inefficient workarounds.

Partners with extensive experience in the industry are well aware and proficient in carrying out the needed integrations with their own or third-party systems.
Axinom, a provider of best-of-breed solutions for OTT content management and protection, is well-versed in building OTT backends. The Axinom Mosaic platform gives you complete freedom to mix and match services as needed. Making it as simple as selecting what you need, building as you expand, and paying as you scale.
"Axinom proved to understand our strategic goals
and our vision establishing a distinct positioning
on the cluttered market, which was important in
the process of selecting a reliable partner."
Amit Goenka CEO - International Business ZEE5
Zee5 serves millions of users globally using a CMS powered by Axinom. The services manage thousands of hours of international and regional content, linear channels, many languages, over 100 regions, multiple payment providers, and several integrations.
"Axinom CMS is one of the most flexible and
modular end-to-end OTT management platforms
we've seen on the market. Their system will
empower us to automate and simplify our content
management workflows while improving
scalability and robustness of our OTT platform."
Tony Huidor VP - Products & Digital Operations Cinedigm
With a future-proof content management system built using Axinom Mosaic services, providers can manage digital assets, associated metadata, integrations, and much more. The system has the potential to be extended in-house to grow with the growing business and operational requirements. Axinom provides ample aids such as developer training, support, and documentation to help such a scenario.
Axinom can help you shape your BIY OTT future,
talk to us below to know more!