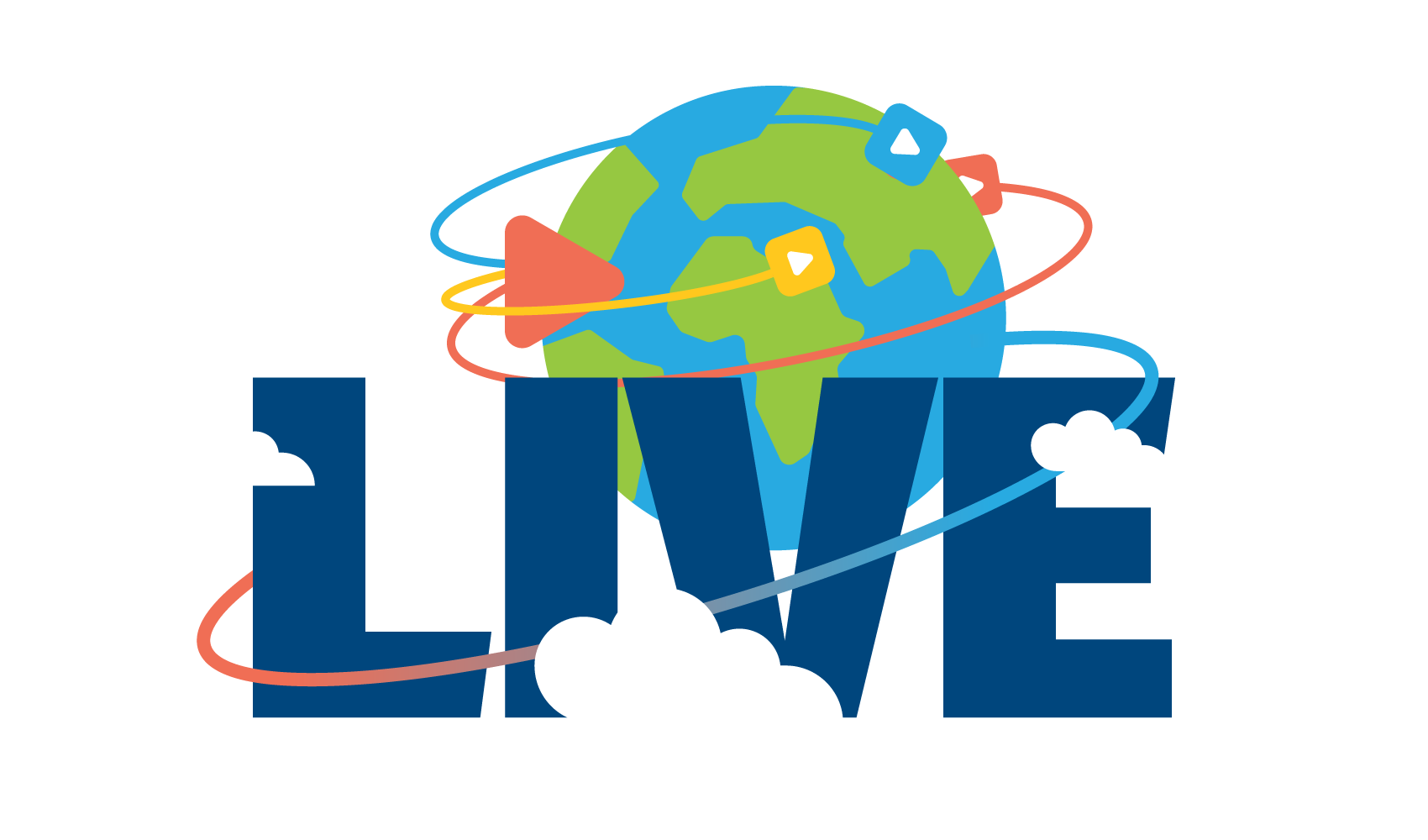 Article
Delivering Live Content via OTT
Complexities and Challenges in Linear Content Delivery
OTT has become, for many, the most convenient way of consuming content. All that is required is an internet-enabled device, and anyone can simply tune in to their favorite content. This ease of access has contributed to the surge in OTT viewership and of competing OTT offerings. Platforms looking to stay ahead need to offer a differentiated experience that keeps consumers hooked. One of the strategies for differentiation that providers are increasingly looking towards is delivering live content via OTT. As people spend more time at home, the appetite for live content has soared, especially for live sports and categories such as news and special events.
Live content, however, has been the last remaining stronghold of traditional linear TV, owing to its reliability in reaching the masses without the scalability and latency concerns of live streaming. However, advances in cloud-based technologies and streaming formats are bridging this gap. The biggest attraction of live OTT compared to linear TV is the personalized viewing experience and the compelling features that it enables. Providers can easily cater to a larger audience or even a niche segment, run targeted advertising on them, offer pay-per-view content, enable a social viewing experience and even repurpose live streams to be available on-demand. Moreover, insights show that viewers spend more time watching live content than VOD, widening the prospects of ad-based monetization.
Challenges in Implementing a Live OTT
Implementing a live OTT service can be challenging. As viewers demand the same convenience and streaming experience they are accustomed to with VOD. They expect live content to be instantly accessible across multiple screens, offer high or ultra-high definition streaming, and alternate between real-time and on-demand consumption.
The significant variances in workflows and features required in setting up a live OTT also make it a different ball game altogether. The contrast is visible right from how video is ingested to its final delivery and with features, such as catch-up services, event/geographical blackouts, program substitution, and even ad-insertion techniques. Also unique to live OTT is the presence of time-based metadata that helps with ad-insertion, blackouts, and nPVR.
Another big challenge is providing low-latency live-streaming at scale. High latency can be detrimental to the real-time experience that viewers crave. For instance, viewers would find it highly dissatisfying if they find out from elsewhere of a goal in a big soccer game well before it streams on their screen. Furthermore, as sports and popular events may lead to millions of viewers watching the same stream simultaneously if your infrastructure is not scalable, it can become overloaded and result in a service failure.
Furthermore, live streams cannot be easily recovered from data loss and delays. Therefore, the risk of loss and failure are inherently higher in live OTT. From a business perspective, live event streaming failures can ruin the experience for end-users and the brand image of the provider. Piracy and illegal streams add another level of complexity as media rights for major events such as sports are acquired at a substantial cost. Therefore, studios, broadcasters, and event organizers want their content to be protected with the highest security measures available.
Expectations from a Solid Live OTT Platform
Enhanced User Experience
A live OTT platform that enhances the end-user experience is crucial for viewer loyalty. Excellent user experience is the accumulation of factors such as ensuring zero downtime, low latency, and of course, a highly personalized viewing experience. A live OTT platform powered by a robust set of cloud-based services can ensure zero disruptions to live streams as it is easily scalable to accommodate peak demands. Latency issues can also be resolved by building a platform that supports the latest streaming formats, such as MPEG-CMAF and generally adopted DASH and HLS streaming protocols. Finally, a personalized experience should go beyond delivering personalized content to interactive offerings, such as social viewing, gamification, multiple camera angles, and so on.
Content Security
Content protection and security are a growing concern for broadcasters and event owners. A live OTT platform must facilitate the protection of content using digital rights management (DRM) standards, forensic watermarking, and entitlement services. In addition, a multi-DRM service that is designed to meet high volume traffic needs and respect cross-platform compatibility must be in place to attain continuous security of your content.
Prioritize Monetization
A solid live OTT strategy should be able to monetize every available opportunity for boosting your revenue generation. In live OTT, options, such as subscriptions, pay-per-view, and free ad-supported streaming can be complemented with targeted advertising. To do so, the platform must be capable of supporting dynamic server-side ad insertion, which enables seamless live-streaming at a lower latency, circumvents ad blockers, and offers the ability to insert more targeted and relevant ads that engage your viewers.
Cloud Neutrality
Your live OTT platform must be cloud-neutral, capable of running on multiple cloud providers, such as Microsoft Azure, AWS, and Google Cloud. One of the significant benefits of cloud neutrality is the ability to replicate your workflows on another cloud provider. In case your default provider has an outage, you can switch to the other instantly. This protects your service from downtime and prevents the disruption of your viewer's streaming experience.
An Integrated Platform
The biggest driver of success with a live OTT offering is setting up its workflows within a platform that offers easy integration between existing and external services. The platform should leverage the cloud and allow you to choose, integrate, operate and scale services that fit perfectly with your technical and business goals. It should offer end-to-end automated workflows for all processes: ingestion, transcoding, encryption, packaging, and publishing your content. The platform must be extensible to allow the addition and modification of features, device compatibility, and services.
Powering the Live OTT Workflow with Axinom Mosaic
Axinom Mosaic is an integrated platform of modular and robust software products that cover the end-to-end media workflows surrounding the distribution of live and VoD content. The services on offer range from content processing to its management and ultimate provisioning to end-user devices.
The basic media workflow for a live OTT starts with the processing of your content through the Axinom Encoding Service, in which the video stream is encoded, encrypted, and packaged into the latest adaptive streaming formats. To enable dynamic ad-insertion, the packager would also insert SCTE-35 metadata into a manifest file or emsg boxes in case MP4 containers are used.
The Axinom Mosaic services for content management manage both your video content and metadata. The monetization and media service define the business and content rules that go with it. In a live OTT scenario, rules can include elements, such as catch-up duration, advertisement configuration, and blackout regions.
Services in content provisioning take care of all the integrations needs and the execution of business rules defined previously. The services here cover ad insertion, content cataloging, user authentication, DRM licensing, billing, and other third-party integrations required.
A third-party ad service utilizes the client manifest generated earlier and can dynamically inject advertisements based on the SCTE-35 markers that were inserted. A processed manifest is then passed on to a Cloud Delivery Network (CDN) for playback of the live streams and the inserted ads on user devices.
The Axinom DRM Service is a highly scalable premium content protection solution that comes with a developer-friendly unified API for supporting multiple DRM technologies, such as Microsoft PlayReady, Apple FairPlay, and Google Widevine with CENC encryption scheme. The service offers an additional layer of security for your live OTT by supporting the rotation of encryption keys associated with your live content.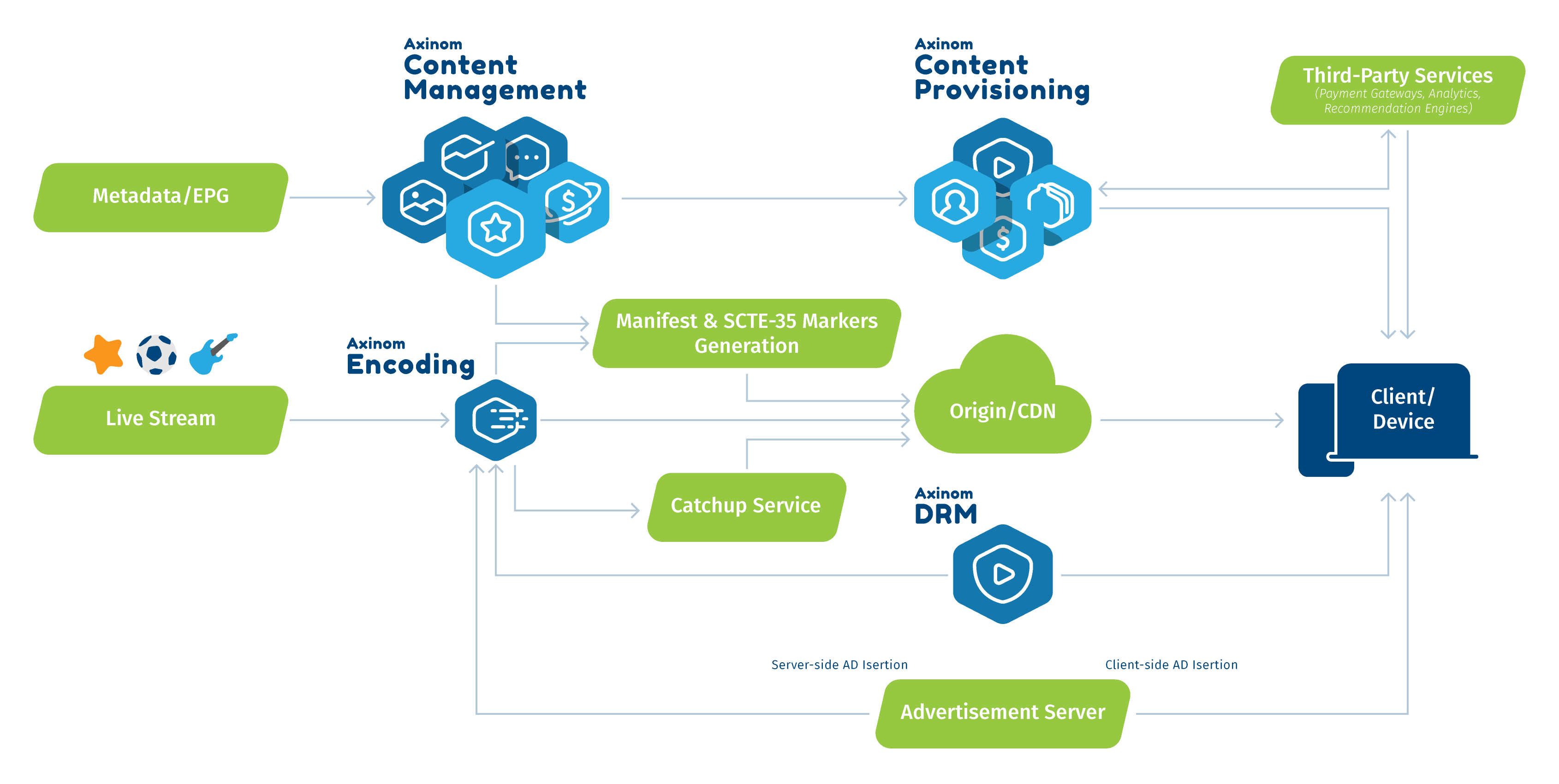 Axinom Solutions for Reaching a Global Audience
Axinom's digital solutions have enabled media and broadcast organizations to reach a global audience with their content. With the right mix of robustness, scalability, and extensibility, Axinom products enrich your viewer's experience by putting them in control of where, how, and when they would like to watch their choice of content, while also supporting you with your business goals through a spectrum of monetization and operating models.
Want to know more? Have a chat with us below.