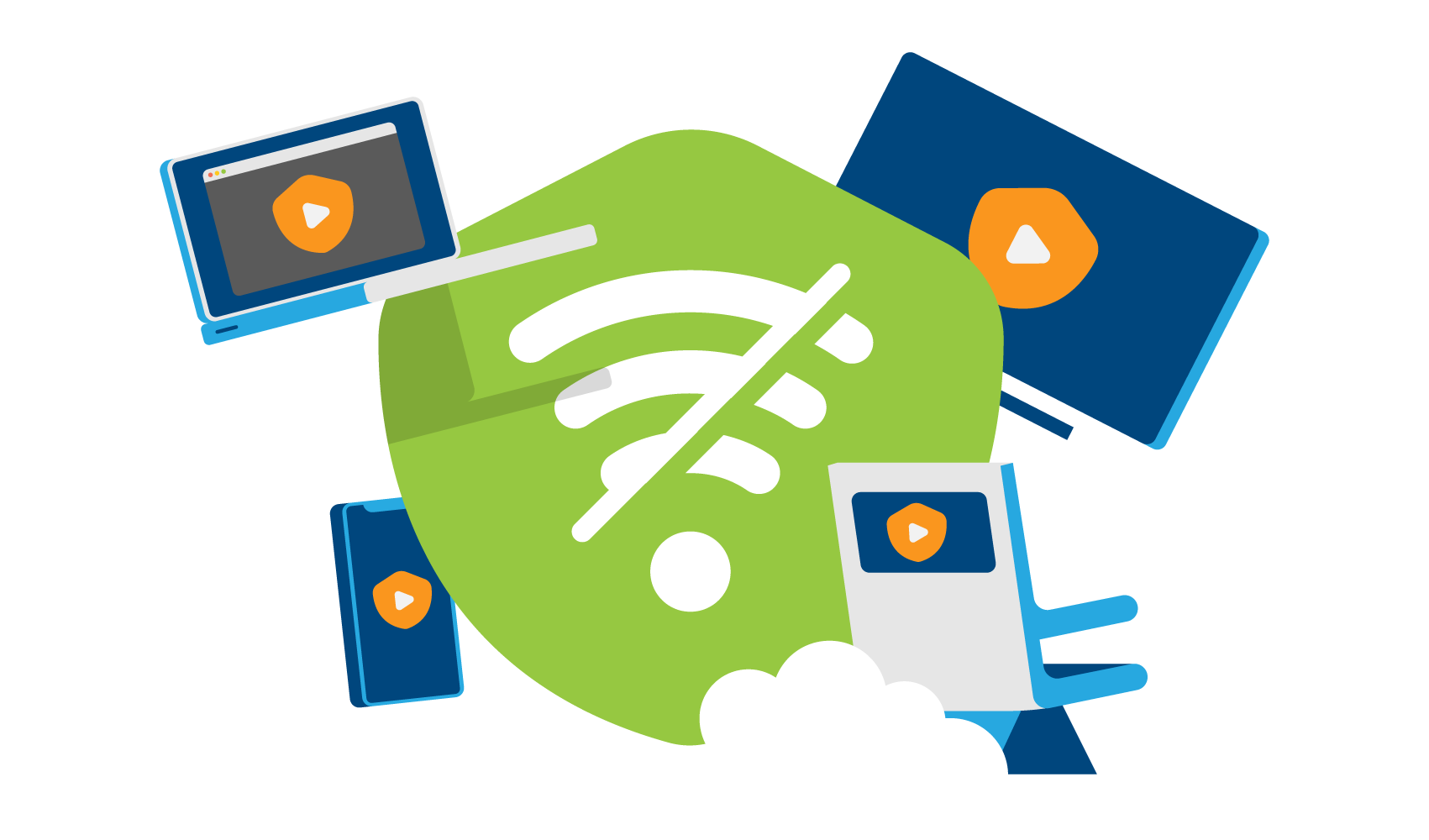 Article
Secure Entertainment in Disconnected Environments
Addressing Complications in Offline Content Distribution
Video streaming has become part and parcel of our daily lives, fueled by the expanding arms of internet connectivity and the proliferation of smart mobile devices. Yet, there still exist environments with poor or non-existent internet that hamper consumers from enjoying their ever-reliable form of entertainment. Such environments can be a remote hospitality location with low coverage or during travel; imagine an airplane over 35,000 feet in the air or a cruise in the deep ocean. Yet, in any of these scenarios, we do not miss out on scanning through the entertainment systems on-board, and indeed it's an integral part of the experience.
Operators across the transportation and hospitality industries are mindful of this need. However, setting up secure entertainment in disconnected environments can get quite complicated, from the stringent content protection requirements to the wide range of devices that need to be served.
How can these complications be addressed?
Axinom DRM for Disconnected Environments
Axinom DRM (Local) was the first multi-DRM solution to offer premium content protection in disconnected settings. It is designed for operating on-board transportation vessels or even in hospitality locations, where internet connectivity is unavailable or limited. By supporting multiple DRM technologies (Google Widevine, Apple FairPlay, and Microsoft PlayReady), under a unified API, Axinom DRM ensures content security on the widest range of devices as a single service. In addition, the DRM is Hollywood studio approved and supports the latest requirements in securing premium content such as 4K/UHD.
Axinom DRM consists of two components, the DRM Key Service and the DRM License Service. These components operate across two stages in the content distribution workflow.
Content Processing and Encryption
The first stage occurs in a connected cloud-based environment for enabling scalable content processing. What is ensured is that your content is not only secure but ready to be viewed on any platform, device, and screen. This process is carried by our Axinom Encoding Service together with the Axinom DRM Key Service. The Encoding service is capable of encoding content into commonly used high-quality formats, such as H264 or H265. It then encrypts and packages content for adaptive streaming based on MPEG DASH, HLS, and CMAF formats. The keys for encryption are obtained from the DRM Key Service.
Once the content is ready for delivery, it is synchronized to a local server in the environment where the content is to be consumed.
Secure Content Playback in an Offline Environment
The second stage is when the encrypted content has to be played in an offline environment. This is where the difference between online and offline DRM protection is seen. Without a reliable internet connection, you cannot communicate with a cloud DRM service to obtain the licenses for content decryption. Therefore, we deploy a local instance of the Axinom DRM License Service in a server residing in the disconnected environment. Thereon, the DRM License service operating on the local server issues the necessary licenses for decrypting DRM-protected content for playback.
Capabilities of the Axinom DRM Service
Offering the Latest DRM Technologies
Axinom DRM secures a variety of premium content types, with the latest technologies required by owners, enabling you to broaden your content offering. Axinom DRM supports hardware-backed content protection, a prerequisite for licensing 4K, and higher quality content. In order to set different levels of protection based on content quality, Axinom DRM supports multiple key content encryption. A multi-key approach optimizes hardware use and network congestion.
Containerized Deployment
Our disconnected DRM solution is extremely resource-friendly and was developed specifically for the elevated security requirements that come with hardware in an offline environment. The local instance of our DRM License service is deployed as a containerized application. This enables the service to run independently from other applications as well as leverage existing hardware. In addition, we worked closely with APEX (Airline Passenger Experience Association), defining the relevant security specifications (e.g., APEX 0415) for on-board DRM services.
Multiple Playback Possibilities
Axinom DRM supports multiple devices used in consuming content in disconnected environments. This can include seat-back screens found in aircraft and other transportation vessels to consumer's personal devices, spanning Android, iOS as well as Windows and macOS laptops. Furthermore, as we support encoding and packaging of content into the common media application format (CMAF), consumers can enjoy video streaming on browsers without having to download a specific application.
End-to-End Workflows
The delivery and presentation of disconnected video streaming involve many factors, of which DRM is merely one. Axinom DRM is one of a range of services offered under the Axinom Mosaic platform, with further solutions for content processing, management, provisioning, and on-ground service management and deployment. Axinom DRM comes pre-integrated with all Mosaic services and offers extensive APIs to enable integrations with in-house products, custom-developed code, and third-party components.
Sign Up to the Portal
Get a sneak peek at the simplicity of our content processing and multi-DRM solutions by signing up for a free evaluation account that gives you access to:
Sample code

Our test environment

Comprehensive documentation
Want to know more? Have a chat with us below.